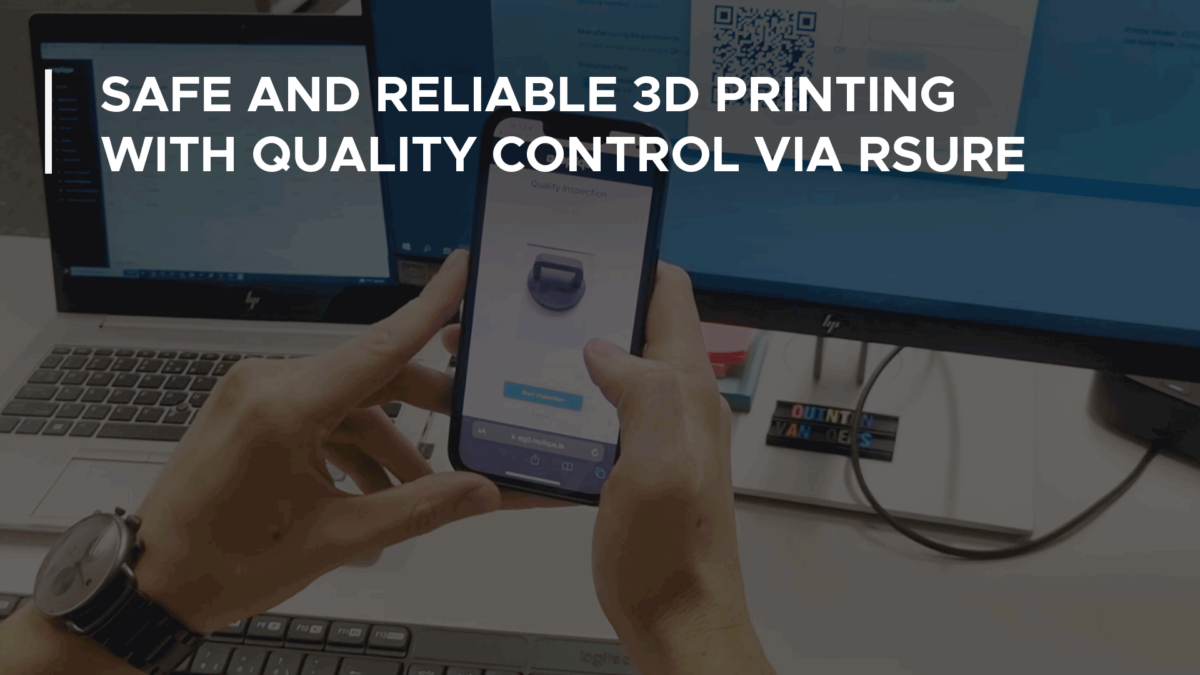 Safe and Reliable 3D Printing With RSure
Over the years, 3D printing (additive manufacturing) has established itself as a cost-effective and fast method for producing spare parts and small to medium series. However, to realize the full potential of 3D printing, companies need a reliable and efficient system. Just as in traditional manufacturing companies have to maintain quality standards. This is where Replique comes in. With its 3D printing platform, the company offers original equipment manufacturers (OEMs) a sustainable and secure way to produce parts on demand, anytime, anywhere. Their quality module RSure enables companies to track and secure their production processes to ensure reliable, high-quality parts no matter where they are produced.
The benefits of distributed 3D printing for businesses
Traditionally,companies produce parts centrally in global supply chains and then ship them worldwide to reduce costs. However, as recent years have shown, this approach has many negative effects. Products are suddenly no longer available, freight costs increase rapidly – companies are dependent. Furthermore, this model requires the establishment of highly complex central warehouses and a high initial investment in inventories. In contrast, 3D printing allows you to produce parts on demand, anywhere, anytime. This reduces lead times and transportation costs and eliminates the need for physical storage. However, 3D printing requires specialized service providers who can supply the necessary resources – such as materials, machines and know-how. And most importantly: It requires secure data transfer and high printing quality to ensure industrial-grade production standards.
The importance of security and quality in additive manufacturing
Especially in the industrial sector, quality assurance is of great importance, as quality problems can lead to significant costs and damaged image. Using external 3D printing service providers can therefore raise concerns, as companies have less control over production results and their designs. Negative experiences with external 3D printing service providers can exacerbate these concerns. For this reason, companies often quality-check parts at their own facilities before sending them to customers themselves. However, this can abolish many of the advantages of decentral 3D printing. Instead of sending the parts directly to the end user, the parts have a second stop, possibly several hundred miles away. Fears of intellectual property theft can also deter companies from using external service providers.
To meet industrial standards, a reproducible and reliable AM process is essential, requiring complete documentation and traceability of each component. This can seem like a daunting task for 3D printing service providers. But Replique's RSure offers a two-sided solution: encrypted production and digitally supported quality assurance.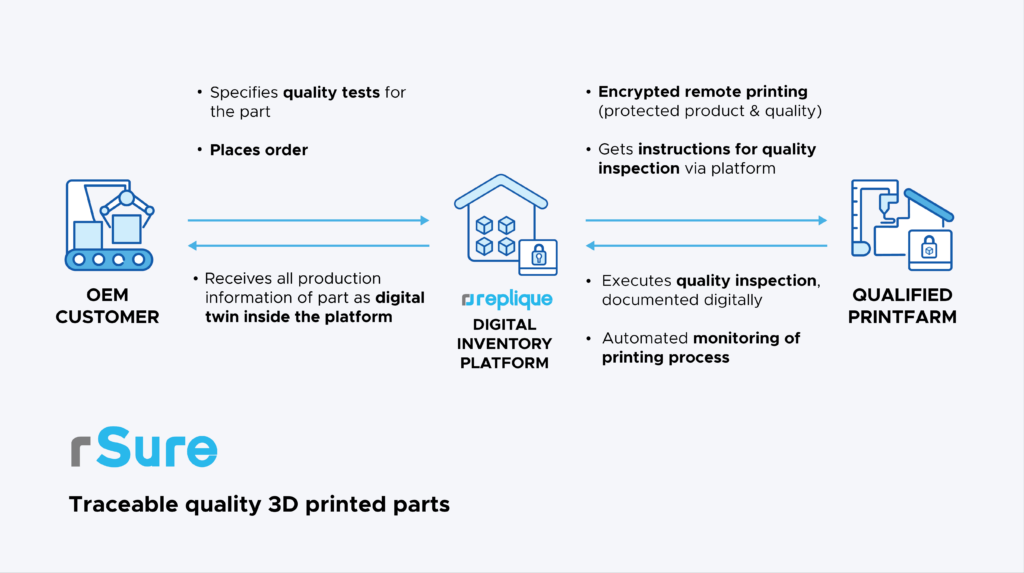 IP protection and process reliability through encrypted data transfer
Through the possibility of encrypted data transfer, Replique can ensure both intellectual property protection and consistent quality of the parts produced. This means that once a part has been qualified for 3D printing, the qualified production parameters are permanently stored together with the part design in the digital warehouse. These parameters thus apply to every production run in the future.
As soon as a company or their customer orders a part, the order is sent directly to the appropriate 3D printing partner in encrypted form. This way, the service bureau cannot modify the print file and can only produce according to the requested print parameters. This ensures protection of the design and consistent quality of the part, regardless of time and place. If there are still slight deviations in the 3D printed parts due to environmental factors, the quality control process of RSure makes sure to detect and correct them.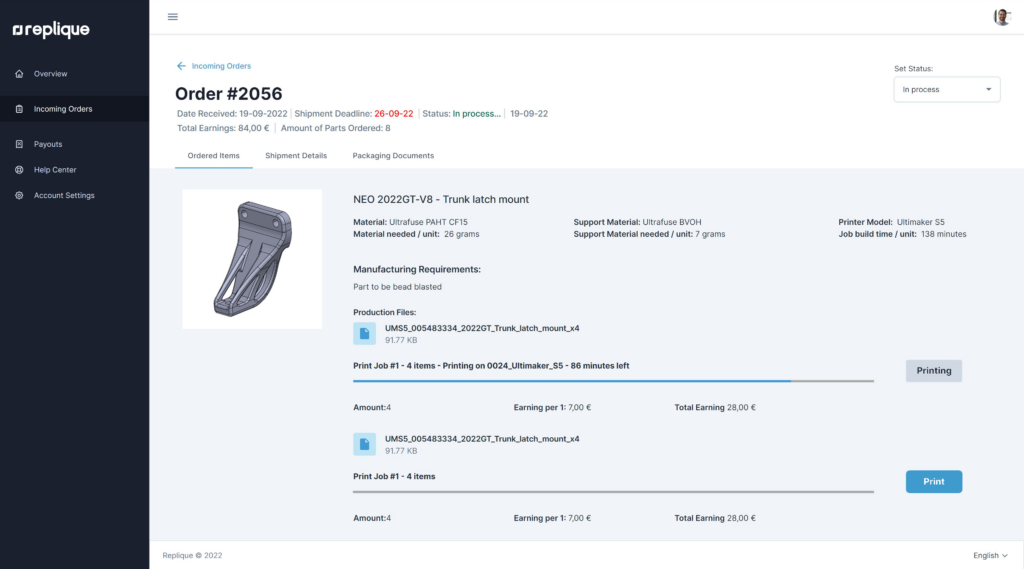 Quality control and documentation with Replique's RSure
Let's think about a part, you need to produce regularly and in several different locations. It is of high importance for the functionally of the final product, so quality plays a huge role. Companies can specify quality checks such as photo documentation, weight and surface roughness measurements within the platform. The OEM also decides how to perform the quality checks, including tolerances and frequency. Once they store all data, Replique reviews and approves the information. Afterwards the OEM can order the part either within the platform or through external ordering channels.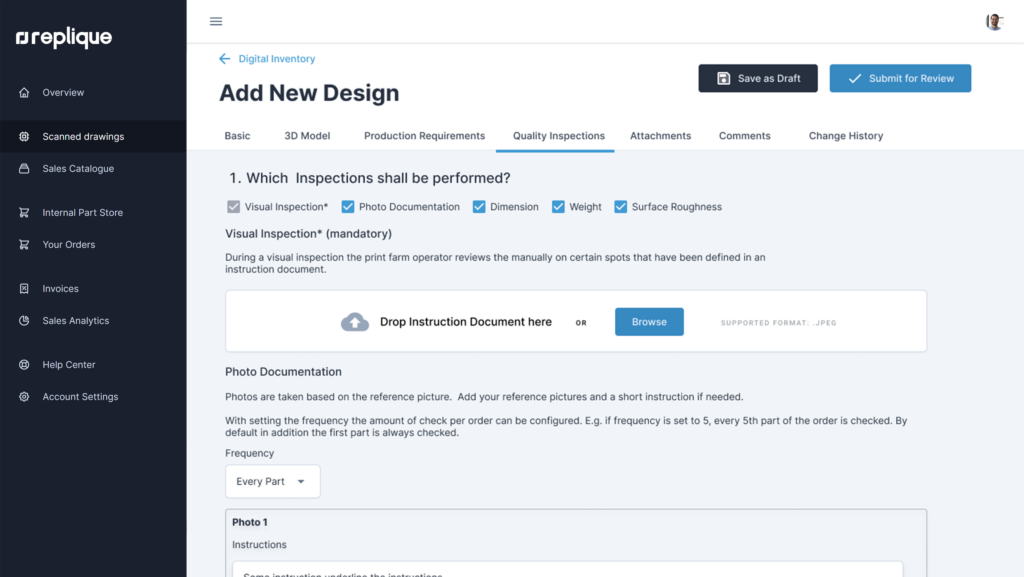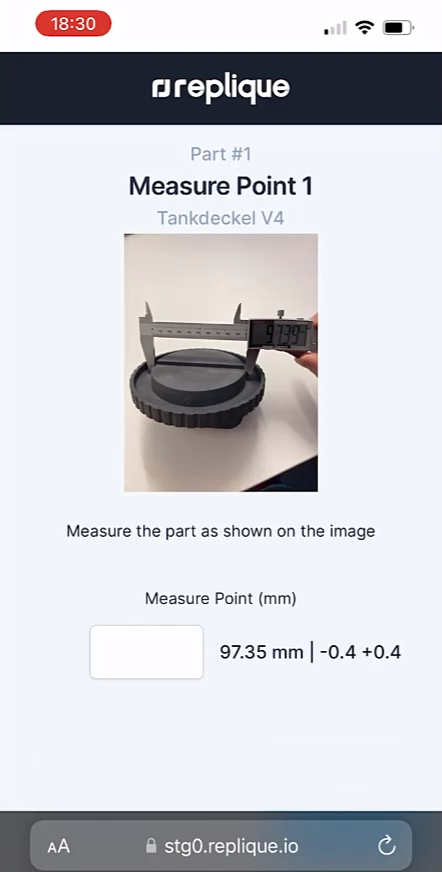 Once the OEM has selected the quality checks, the 3D printing service provider can retrieve this information via the platform with an incoming order (in encrypted form if required). The print farm can easily perform the quality check via smartphone using a QR code or on the PC. They start with a visual inspection for general quality, which is standard practice, followed by the other requested inspections. If a test result is out of tolerance, the 3D printing service provider gets a warning and contacts Replique to arrange next steps. Once the part passes quality control, the print farm can send the parts directly to the end user.
The OEM or end user can access the final quality report at any time through the platform. The report contains data from the manufacturing process, materials used and the results of the quality tests predefined by the OEM. If required, a 3D-printed marking can even be integrated into the part, e.g. a QR code. The digital twin of each produced part enables part-specific monitoring and complete documentation. This provides a reliable and efficient solution for quality control in decentralized manufacturing.
The advantages of RSure at a glance
RSure offers several benefits to companies looking to use 3D printing for production. Full documentation and traceability of each part reduces the risk of errors and makes it easier to track the produced part. Documentation ensures consistent quality over time, as companies can easily track and evaluate changes to production parameters and materials.
RSure also optimizes the quality control and documentation process, saving time and increasing efficiency. Print Farms can perform quality checks more efficiently and quickly by following a specific checklist, eliminating the need for manual paper documentation. Information is uploaded in real time without the need for emails and other time-consuming forms of communication. All data is centralized on the platform, allowing OEMs to easily access the production information they need.
Combined with Replique's digital warehouse, RSure provides a comprehensive, reliable and optimized solution for decentralized 3D printing. Parts can be produced on-demand through the global network of manufacturing partners. They are shipped directly to the end customer, eliminating the need for centralized warehousing and reducing lead times and costs. An independent platform also provides the opportunity to keep infrastructure costs low. This makes 3D printing more accessible to companies looking to start decentralized production and provides a reliable quality assurance solution for those already using 3D printing.