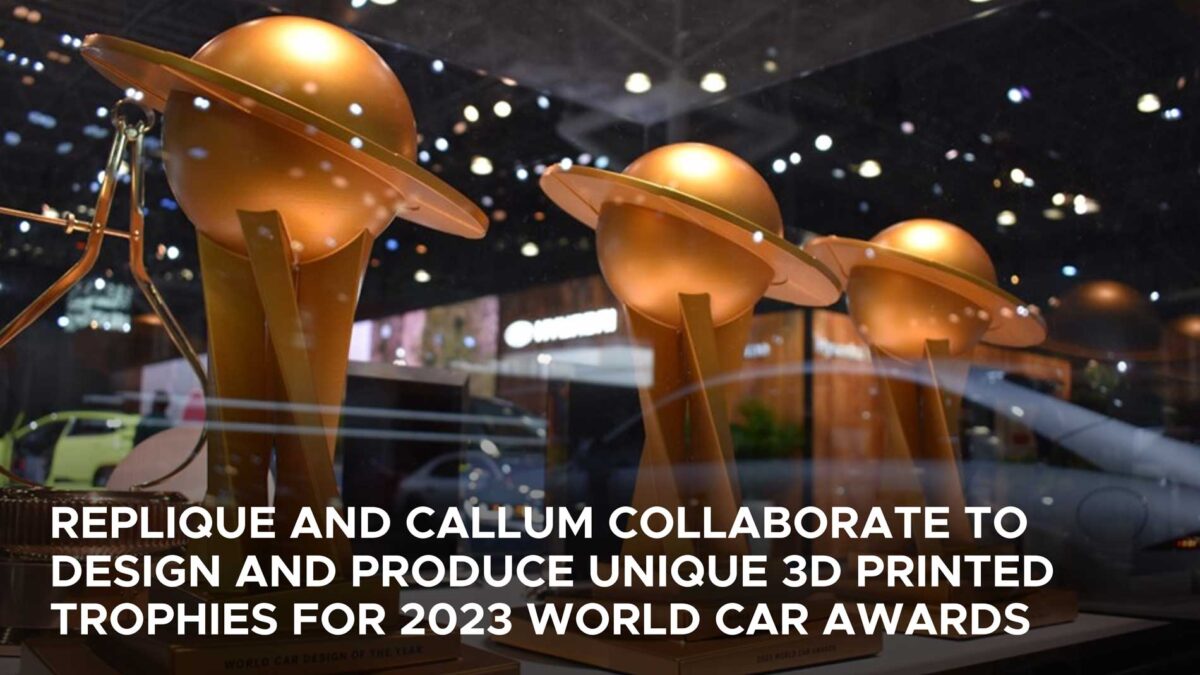 Replique and CALLUM Collaborate to Design and Produce Unique 3D Printed Trophies for 2023 World Car Awards
Mannheim, Germany and Warwick, UK, April 24 2023 – The recent World Car Awards (WCA) ceremony, held in April in New York, once again grabbed the attention of the global automotive community, but another star of the night was the eye-catching 3D printed trophy that was presented to the category winners.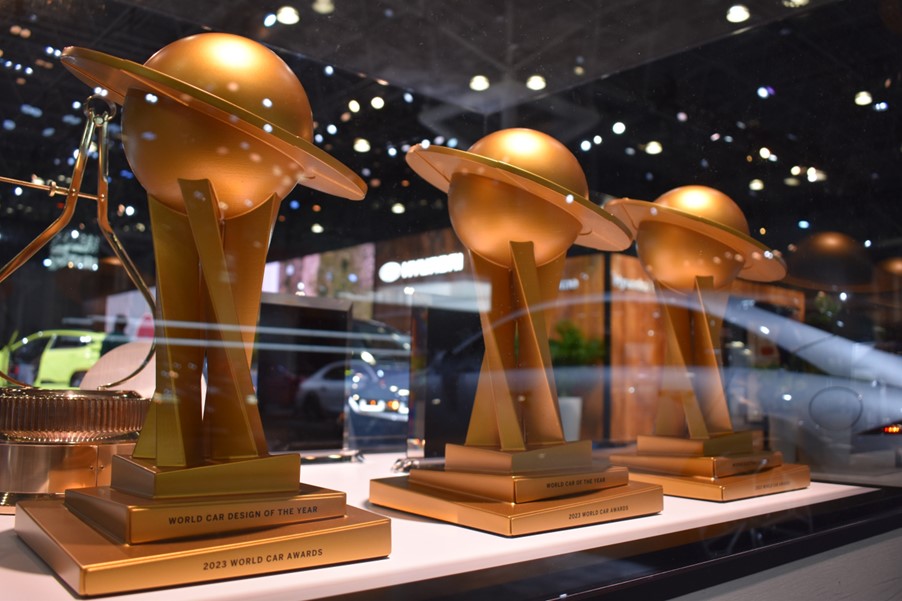 The seven trophies were produced via Replique and created by the design and engineering company, CALLUM – led by legendary car designer, Ian Callum. The two companies were selected and commissioned by the WCA organisers, with a creative brief to design and manufacture a new, unique and visually impactful trophy that would befit the prestigious awards and its winners.
Replique, which provides the first fully encrypted 3D printing platform that offers OEMs a secure and sustainable means of providing parts on demand, anytime, anywhere, produced the trophies in PA12 material through its network of trusted print partners by utilizing SLS technology.
Once 3D printed, the trophies underwent a post-processing stage before being delivered to New York in time for the internationally recognised awards ceremony. Among the procedures applied was the vapor smoothing technique which provided an ideal seamless surface for the application of vibrant gold automotive-grade coatings, further enhancing their aesthetic appeal.
Hyundai was one of the victors, who scooped three wins for its IONIQ 6. These included 'World Car of the Year', with the company's global COO on-hand to receive the coveted 3D printed awards.
Commenting on the production of the trophies, Henrike Wonneberger, Co-founder and COO of Replique, says, "Thanks to its fundamental attributes for fast, low-volume production of any design in one-piece, regardless of its complexity, 3D printing was an obvious choice as the manufacturing method for this project."
"We are thrilled with the results and were not surprised that the trophies turned heads at the ceremony," she adds.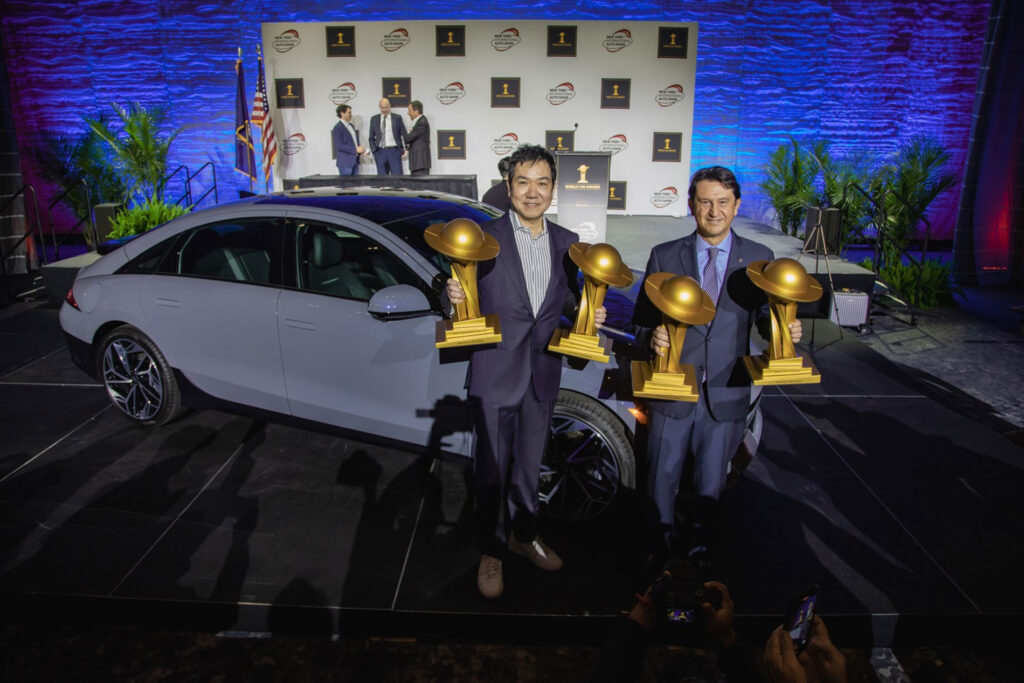 According to Ian Callum, known for his timeless automotive designs, the concept behind the new trophy reimagines the theme of the WCA logo and the original award, with a road encircling the globe in a modern yet emotive style depicting movement. As the automotive industry rapidly adopts additive manufacturing because of its unique advantages, including reducing costs, enhancing product performance and increasing supply chain resilience, WCA has chosen to embrace this technology for the first time in the creation of the new trophy. By leveraging 3D printing, the construction of the new trophy also represents the many technological advances made in vehicle design and manufacturing.
"3D printing is fantastic because it addresses and overcomes the constraints of traditional thinking and manufacturing," explains Ian Callum.
"When you design something, you need to consider factors like the angles, the construction method and if it will need assembly of different parts – all of which is very complicated and time-consuming. This project demonstrates perfectly how 3D printing completely removes that headache, by granting you the means to create virtually any form from a digitalized design," Ian Callum adds.
"On behalf of Replique, I'd like to extend our warmest congratulations to all esteemed winners of the 2023 World Car Awards. It was a thrilling moment to see the winners' faces light up with joy at the sight of their cutting-edge, 3D-printed trophies, which also capture the essence of the occasion so perfectly. We look forward to contributing to many more such moments," Henrike Wonneberger concludes.
The full categories and winners for the 2023 World Car Awards were: World Car of the Year: Hyundai IONIQ 6; World Luxury Car: Lucid Air; World Performance Car: Kia EV6 GT; World Electric Vehicle: Hyundai IONIQ 6; World Urban Car: Citroën C3; World Car Design of the Year: Hyundai IONIQ 6; World Car Person of the Year: SangYup Lee, Executive Vice President, Head of Hyundai and Genesis Global Design Center, Hyundai Motor Company.
About Replique
Replique was founded by BASF employees from the fields of material science and digitization. Their idea was to digitize and produce parts on demand so that they are available anytime and anywhere. To realize this vision, the team joined Chemovator GmbH, the internal venture builder of BASF, in 2020.
Replique provides a secure digital platform that easily integrates into the existing system landscape (e.g. ERP systems, e-commerce) and enables OEMs to provide parts on-demand to their customers through a global and decentralized 3D printing network of more than 60 facilities. As an end-to-end solution, Replique supports its customers along the entire value chain, including design, technology and material selection, as well as digital warehousing.
For further information on Replique, please visit: www.replique.io
About CALLUM
CALLUM is a design and engineering business creating bespoke and limited-edition products.

CALLUM is focused on design, lifestyle and travel, taking on projects that intrigue, excite and tell a story. It is a collaboration of talented individuals with experience across art, audio, automotive, fashion and motorsport brands.
Nimble and agile, CALLUM produces exquisite design supported by quality execution, with its 30,000 sq. ft Warwick facility housing the latest technology to deliver design, prototyping, machining and trim services.

Amongst its founding members is British designer Ian Callum CBE, admired for his prolific automotive work, which includes the Aston Martin Vanquish, Vantage and DB9, Jaguar F-Type, F-PACE, XJ and the World Car of the Year Award-winning I-PACE, amongst others.

www.callumdesigns.com
Contact Information