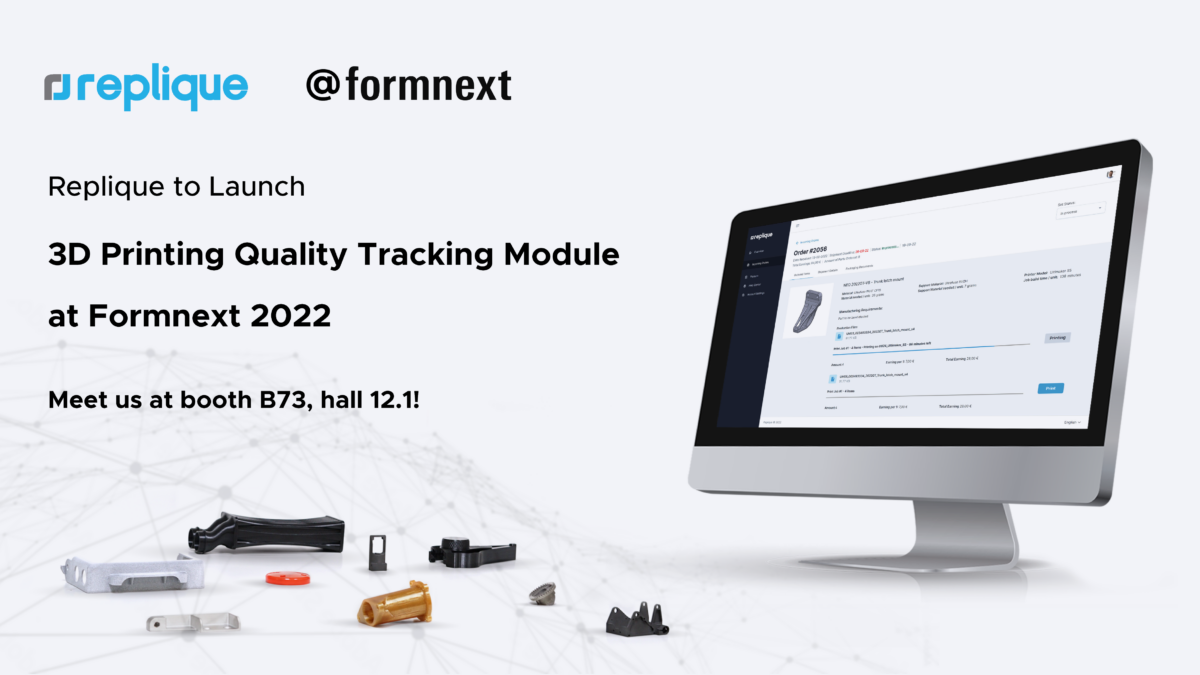 Replique to Launch 3D Printing Quality Tracking Module at Formnext 2022
New module will offer OEMs a digital quality control over the whole manufacturing process of each individual part, providing a digital twin of all produced parts.
On-stand 'digital warehouse' will enable visitors to order and produce free 3D printed parts via Replique's encrypted 3D printing platform
Company will showcase new material developments from trusted material partnerships and customer use cases from the B2B and B2C sectors
Mannheim, Germany – October 04 2022, Replique, the provider of a secure 3D printing platform that makes OEMs part management more efficient and sustainable, will use Formnext to launch RSure, an innovative quality tracking module that enables OEMs to track each of their 3D printed parts directly and ensure that final parts meet necessary quality requirements. RSure allows OEMs to set quality specifications, undertake a digital inspection and trace parts being produced via Replique before the part is sent to customers. The new module will be on display as part of Replique's industrial 3D printing platform (Booth B73, Hall 12.1).
RSure will also enable OEMs to include further quality checks for service bureaus to undertake on 3D printed parts, including various certified measurements, functional tests and image upload to the OEM's digital library on Replique. Via the secure platform, OEMs can access and view this information remotely at any time.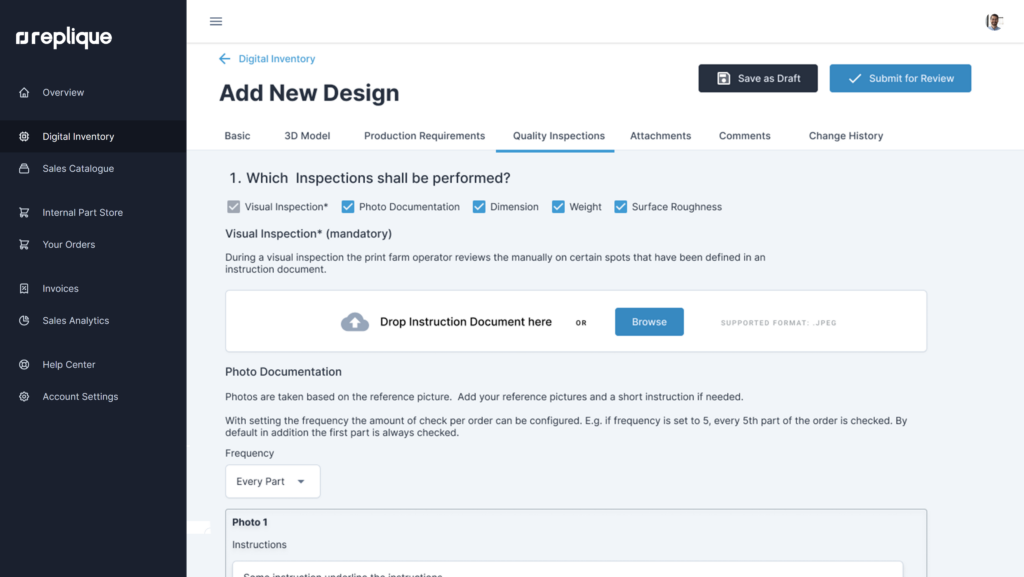 Formnext visitors will be able to test Replique's encrypted ordering process – which ensures parts are printed in the required amount and in the required quality – by ordering a free 3D-printed give-away produced on-stand. This will also enable an up-close look at the company's digital inventory, which enables part designs to be stored, managed, and ordered internally.
Additionally, visitors will be able to hear about individual consumer and industrial customer application projects. These include a recent example for Alstom involving a doorstopper as the first serial metal part on rolling stock. This was qualified and manufactured with Forward AM, the BASF 3D Printing Solutions GmbH brand, using the metal filament Ultrafuse® 316L.
Max Siebert, co-founder and CEO of Replique comments "as part of BASF, we know that industrial companies need standardized and repeatable production processes, especially when it comes to decentralized manufacturing. With our end-to-end solution we can ensure traceability, while providing repeatable quality and secure encryption of 3D printed parts."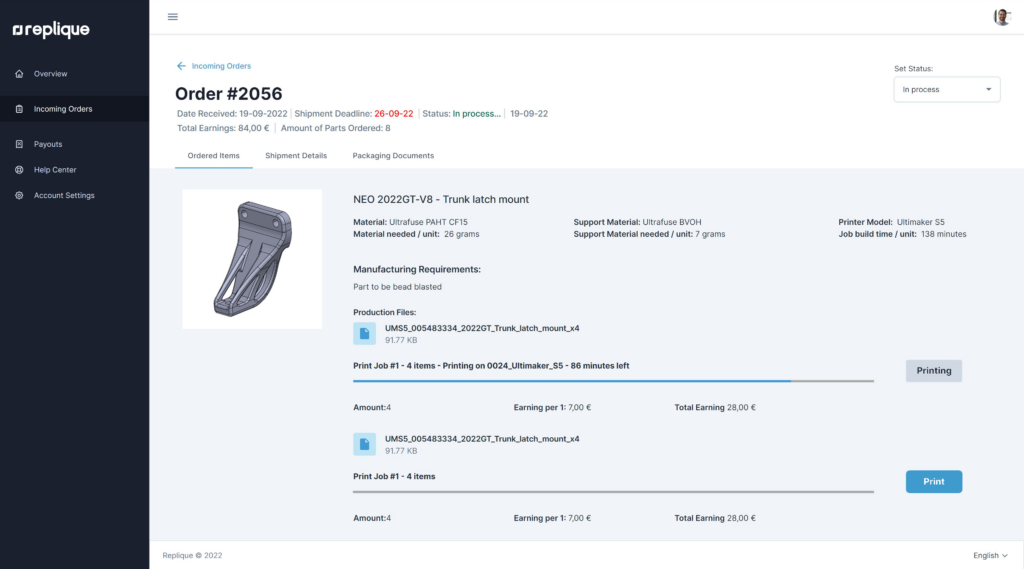 Replique's solution works for both B2B and B2C companies and the use cases presented at Formnext cover just a small range of applications. The joint work with H. Gautzsch Company Group in particular demonstrates the Replique platform's wide range of possibilities for internal and external ordering and fulfillment, as does the project with premium home appliance manufacturer, Miele.
Visitors interested in scheduling an appointment with Replique in advance of the event can contact Arash Rashidi arash.rashidi@replique.io.
About Replique
Replique was founded by BASF employees from the fields of material science and digitization. Their idea was to digitize and produce parts on demand so that they are available anytime and anywhere. To realize this vision, the team joined Chemovator GmbH, the internal venture builder of BASF, in 2020.
Replique provides a secure digital platform that easily integrates into the existing system landscape (e.g. ERP systems, e-commerce) and enables OEMs to provide parts on-demand to their customers through a global and decentralized 3D printing network of more than 60 facilities. As an end-to-end solution, Replique supports its customers along the entire value chain, including design, technology and material selection, as well as digital warehousing.
For further information on Replique, please visit: www.replique.io
Contact Information
Customer Contact
Arash Rashidi
Technical Sales Expert
T +49 15111795021
E arash.rashidi@replique.io
Media Relations
Melina Bluhm
Marketing & Communications
T +49 151 65570778
E melina.bluhm@replique.io
Media Relations
Jonathan Wake
Incus Media
T +00 33 6 64 04 33 27
E jonathan.wake@incus-media.com
Media Relations
Ruth Stevenson
Incus Media
T +44 (0) 7501 931 942
E ruth.stevenson@incus-media.com