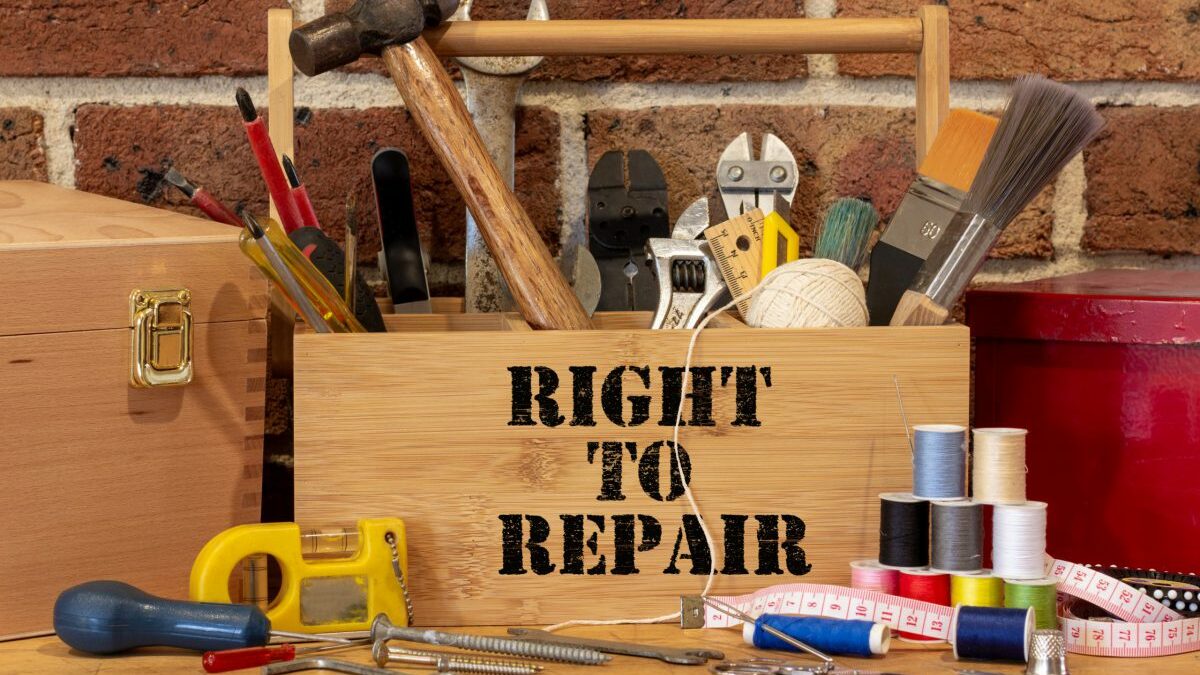 "Right to Repair" – New EU-Regulation for Mandatory Supply of Spare Parts
With the introduction of the new EU energy label, the EU has formulated new regulations regarding spare parts, that took effect on the 1st of March 2021. The often called "right to repair" regulation makes it mandatory for manufacturers to have spare parts available for at least 7-10 years after the last unit of a model has been placed on the EU market.
Currently these "right to repair" regulations are only regarding new models of four kinds of electrical appliances, limiting their possible scope; washing machines, dishwashers, fridges and displays. However, it is most likely only a matter of time until these regulations are mandatory for a wider range of applications. Even if not regulated by law, original equipment manufacturers (OEM) could improve customer satisfaction significantly by voluntarily committing to spare part supply. In this blog we would like to discuss the impact of such regulations and commitments, and how Replique can help manufacturers with upcoming challenges.
The "Right to Repair" for End Customers
First of all, a longer availability of spare parts will be beneficial for the end customers. And finding spare parts will be a lot easier. In most cases replacing a part is cheaper than replacing the whole asset. That saves not only costs, but also efforts in finding new replacement products.
Let's look at an example: A customer owns a garden set including a table and multiple chairs. A few years after the purchase one of the parts of a chair breaks. Imagine, the OEM does not offer the necessary spare part. Many times, the person replaces the whole garden set, leading to unnecessary waste and costs. If an OEM instead provides those spare parts with reasonable costs, the customer will be a lot more satisfied. For the customer it will be more convenient and cheaper to replace the broken part, instead of replacing the whole garden set.
Environmental Benefits of the Regulation
With these regulations the EU tries to steer our economy more towards a circular economy, to limit waste and use resources continually. This is a big change compared to the linear economy where natural resources are transformed into products and afterwards get disposed of.
Currently around 30% of electric and electronic products are discarded when they are still in a repairable state. With the new regulation, customers are now able to repair their products instead of buying a new one. As repairing is a lot cheaper in many cases, the customer will be much more likely to buy the spare part. This can significantly reduce the waste and moreover also the CO2 footprint of the application.
Let's go back to our example. As said before, instead of scrapping the whole garden set, the customer can now repair the chair, leading to less waste and a better CO2 footprint over the lifetime of the garden set.
Mandatory Spare Part Supply for OEMs – a Curse?
Having to keep spare parts available for a longer period of time will also have an impact on the OEMs. Usually they have a huge number of different products. Therefore the amount of spare parts can grow drastically over the years. It is a big challenge, if they need to have all of them available even after serial production stopped. Of course, you want to keep your customers satisfied, but at what price and how can you do this?
The OEM's have two possibilities. Either they keep their parts in inventory or they produce them when an order comes in. Keeping the parts in inventory makes sure that the orders can always be fulfilled. However, there are also lot of costs, such as the costs for space, risk and interest. The more parts lay in the warehouse, the more space manufacturers need. Parts could get damaged or not being sold, leading to physical and economic risks. And of course, capital is bound to the inventory that cannot be used to earn interest or make other investments.
If OEMs produce the part when an order comes in, other challenges such as re-tooling or minimum order quantities (MOQs) occur. We discussed those problems further in our previous blog regarding the opportunities for a digital warehouse in the aftermarket.
Or a Blessing?
Making the provision of spare parts mandatory for some OEMs sounds like a huge burden. But let's look at the positive side! With the longer supply of spare parts, companies can focus on aftersales services and gain new revenue streams and higher brand loyalty. Especially quality driven companies could benefit from a voluntary spare part supply. Instead of going to another supplier, the end customer stays with the same company for further parts and repair services.
Imagine, the customer from our example repairs the chair with spare parts from the OEM, instead of bying new products from a competitor. This is a huge possibility for OEMs to stay more competitive in the market. And there is even a way to reduce the costs and efforts related to spare part supply. Let's see how Replique can help with that.
Replique's services to provide lifelong spare part availability
We at Replique offer OEM's the possibility to store their parts in a digital inventory and 3D print. With our decentralized and secure network of service bureaus we can print the parts on-demand. Part designs saved in the digital inventory are available for an unlimited amount of time. By that, Replique eliminates the challenges of huge inventories, MOQs and retooling costs. The price of spare parts in the end of the product lifecycle can be lower than with conventional processes. We help you fulfill the "right to repair" regulation or your voluntary commitment by actually extending the lifetime of your asset with economically reasonable costs for spare parts.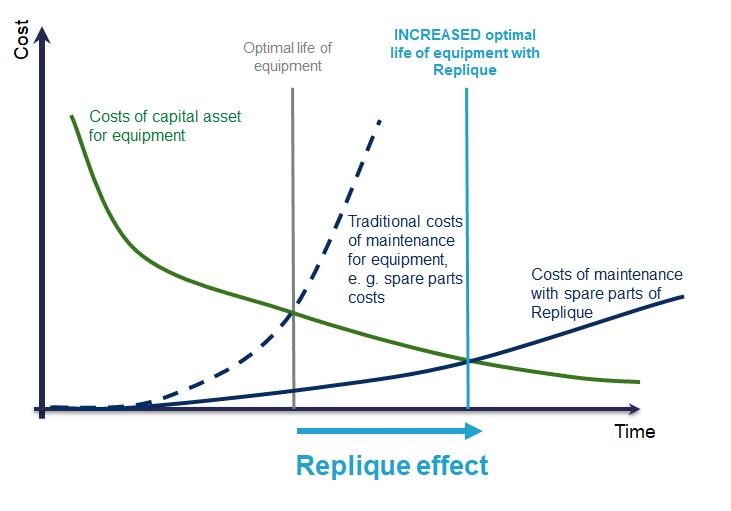 As mentioned earlier, it is most likely only a matter of time until more industries must have their spare parts available for a longer period of time. Do the new regulations affect your company or you want to offer more spare parts? We are happy to show you how Replique can help you. Have a look at www.replique.io or send us an email at info@replique.io