The whole 3D printing ecosystem at your fingertips
Discover how you can produce parts on-demand in trusted quality, anywhere worldwide.
Replique at Formnext 2023
7 – 10 November 2023
Frankfurt | Hall 12.1, Booth A107
Secure your free ticket now!
Replique at Formnext 2023
The 3D printing season is kicking off once more in Frankfurt – the international meeting point for industrial 3D printing experts and production professionals!
We at Replique want to use the opportunity to showcase our 3D printing platform for on-demand parts. With our secure digital inventory connected to a decentral network of more than 85 production partners worldwide, you can simply manage and order all your 3D printable parts – streamlining and simplifying the whole ordering and fulfillment process while securing industrial quality.
Come by our booth in Hall 12-1, Booth A107 to explore some interesting use cases from customers such as Alstom, MAN and Miele, learn more about our AM collaborations and chat with our experts to discover your opportunities in distributed industrial 3D printing.
The future of 3D printing is here, and we look forward to exploring it with you.
See you at Formnext 2023!
Explore Replique's material database at Formnext
Find the perfect material for your 3D printing application!

Free Access
Enter material knowledge for free

Exhaustive
Polymers, metals, composites, …

Filter Options
Requirements, supplier, certificates, …

Expert data
Tech data, certificates & reference cases

Standardized
Open, standardized technical data

API available
Possible to integrate into your services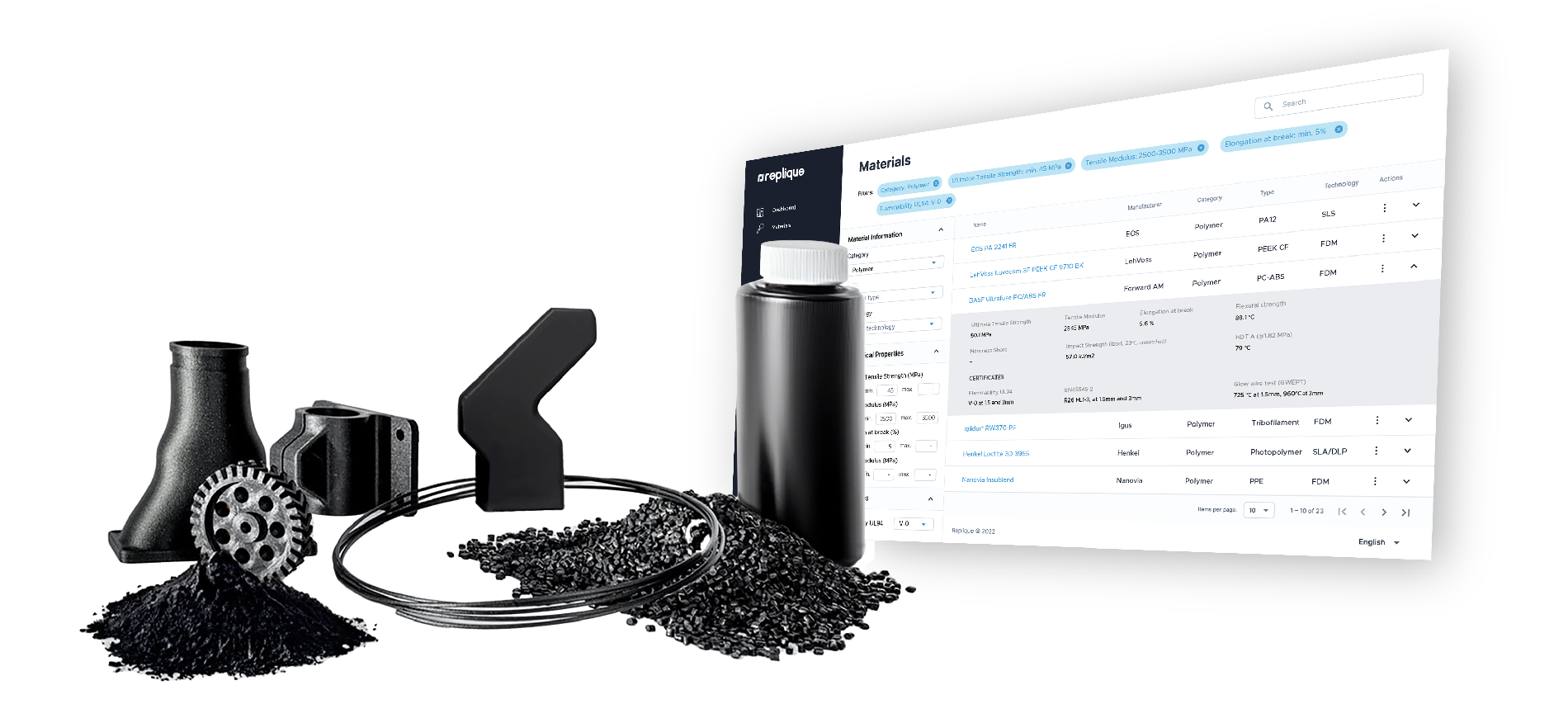 Delve into exciting use cases
Polymer, metal, or ceramic – we got you covered
*while stocks last. Once exceeded, a 50% discount is available.
In order to reserve enough time for your request and have an in-depth exchange at the fair, please make an appointment with our experts at Replique.